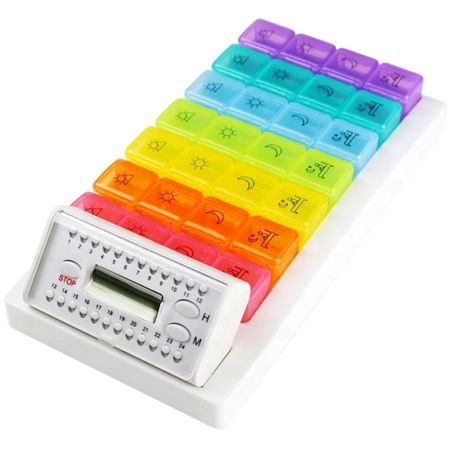 The pill holder of 7 days with an alarm has 4 compartment pill box which can be made to order...
Pill Reminder Box - Tablet & Pill - Medicine Cutter & Splitter Manufacturer | E-link Plastic & Metal
Based in Taiwan since 1979, E-LINK PLASTIC & METAL IND. CO., LTD has been a plastic boxes manufacturer. Their main plastic box products, including Pill Reminder Box, pill boxes, medication organizers, medicine organizers, pill cases, pill crushers, pill organizers, first aid kits, pill grinders, pill cutters and pill reminder boxes, which are delivered with certified raw materials.
E-link established in 1979 and has more than 40-year experience in plastic pill box manufacturing. Our wholesale pill boxes, pill organizers can past the non-toxic test and sell to US and EU with country's standard certification. For clients who wants their own designed pill boxes, we have the technique to achieve their request. E-link has supplied the OEM pill box product to many clients in health care, pharmacy, elder care and other new medical care industry. We have wide selection of unique and functional plastic pill cases for wholesale.
E-link has been offering customers bulk pill cases, crushers and cutters, both with high-quality manufacturing processes and 40 years of experience, E-link ensures each customer's demands are met.