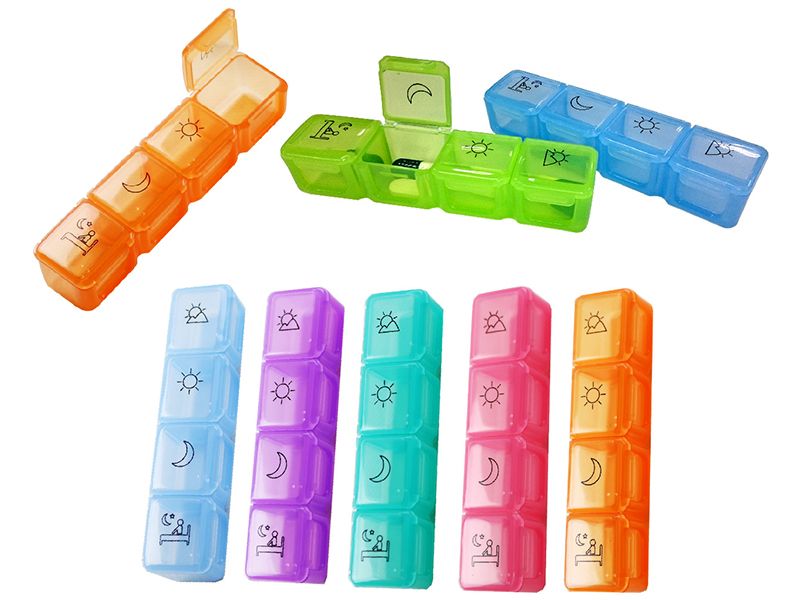 Custom Printed Daily Pill Box
Custom Daily Pill Case and Organizer for Wholesales
Daily pill box can produce more than 50000 pcs a month in our factory. Most of our item is came from daily pill box. They have 2 to 7 compartment which combine to different outer case, purse, and clothes bag.
---
At first, we molded various pill box with different grid, shape, and capacity. After that, we see more and more requirement for different usage. In nowadays, we combined pill case including week, month, travel and others.

Pill Boxes and Custom Pill Cases with your buyer's personalized logo is available by E-Link. If you do not see custom daily pill box, pill case as we have hundreds of styles to choose from.
Our ISO factory use 100% new food grade material to produce our item, provide our client with BPA free, non-toxic product by SGS certificate. Factories have more than 20 machines for plastic injection and printing. In addition to our equipment, we cooperate with varies long-term packing factory in china to satisfy their packing require. For more products information, please find below.
Our Product DM
Hot selling or latest DM download.

Download
Manufacturer of Custom Daily Pill Case and Organizer for Wholesales | Tablet & Pill - Medicine Cutter & Splitter Manufacturer | E-link Plastic & Metal
Based in Taiwan since 1979, E-Link Plastic & Metal IND. CO., LTD. has been a plastic boxes manufacturer. Their main plastic box products, include Custom Printed Daily Pill Box, pill boxes, medication organizers, medicine organizers, pill cases, pill crushers, pill organizers, first aid kits, pill grinders, pill cutters and pill reminder boxes, which are delivered with certified raw materials.
E-Link Plastic & Metal IND. CO., LTD. established in 1979 and has more than 40-year experience in plastic pill box manufacturing. Our wholesale pill boxes, pill organizers can past the non-toxic test and sell to US and EU with country's standard certification. For clients who wants their own designed pill boxes, we have the technique to achieve their request. We have more than 40-year experience in global trading and manufacturing in plastic industry. We focus on plastic pill box. Create varies pill box which including function, style, shape, usage, size and quality. Our own designed have China & America's patents.
E-link has been offering customers bulk pill cases, crushers and cutters, both with high-quality manufacturing processes and 40 years of experience, E-link ensures each customer's demands are met.